Last Chance Items!
 To keep our inventory fresh and exciting we have to let some of our items go, and you win! Here you'll find great fountains priced up to 80% off.  This bargain board changes frequently, so keep an eye on our special deals! All items are sold As IS.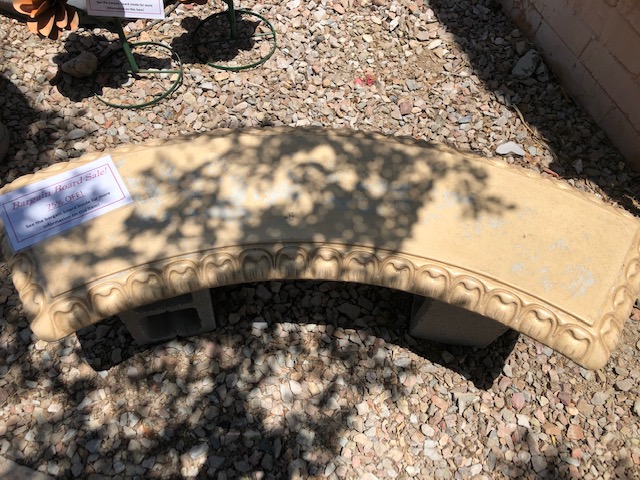 75% OFF!
Was: $379 Now: $95!
With a bargain like this there's no wonder The Curved Grape Leaf bench top is the last one!! It weighs 271 lbs and is available in Sorento Sandstone.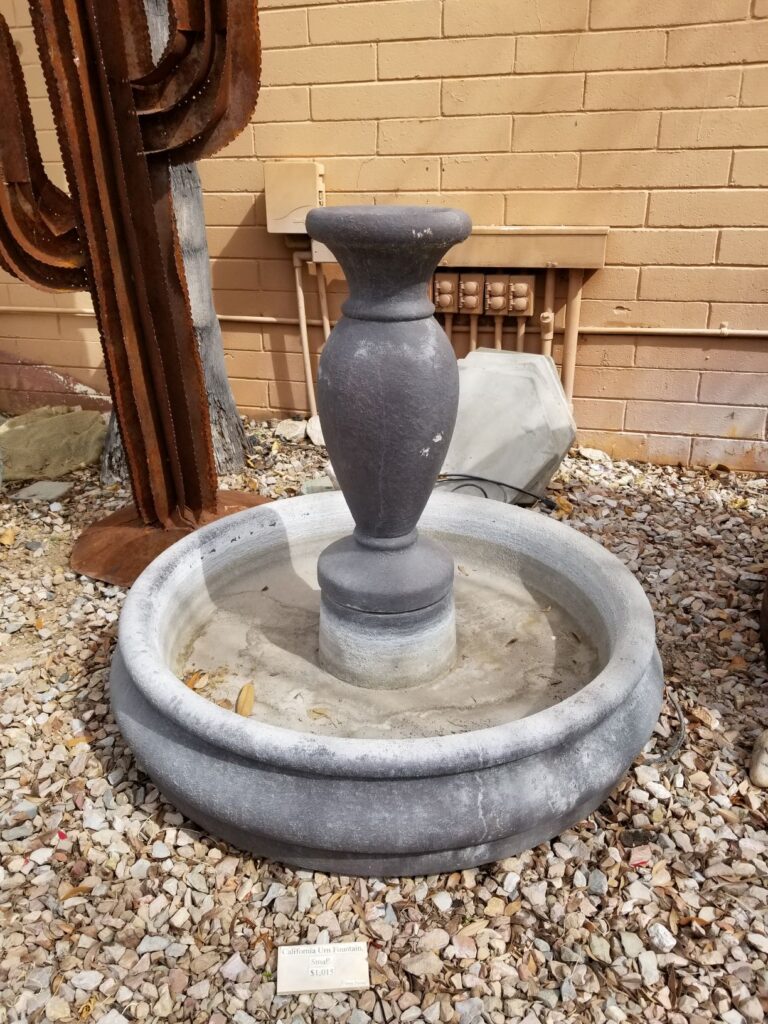 50% OFF!
Was: $1015 Now: $499!
The California Urn Fountain stands 33″ high and has a 38″ basin. Being a display item there are fine hairline cracks in the basin. Beautiful piece and ready to sparkle for you.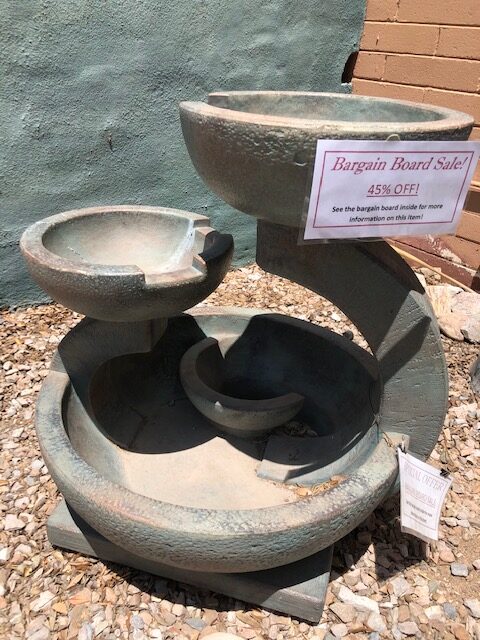 45% OFF!
Was: $1299 Now: $714!
The Zen Three Bowl Fountain is 32″ high with a 29″ basin. This wonderful fountain had an accident when delivered and we repaired the basin from a crack that occurred. Despite it's rough start it will still provide tranquility to your home.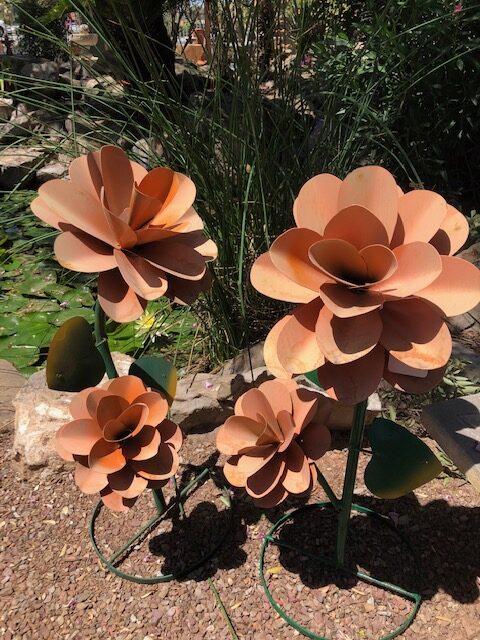 25% OFF!
Was: $47.95ea Now:
$35.00ea

!

Desert friendly flowers, no water needed and guaranteed not to wilt in the heat!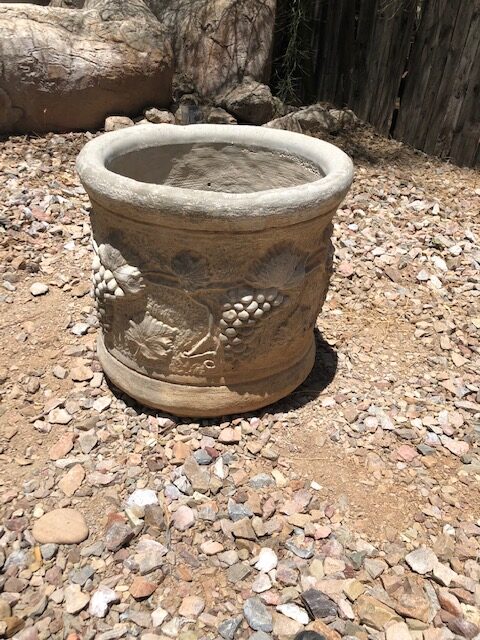 50% OFF!
Was $69.95 Now:
$34.95

!!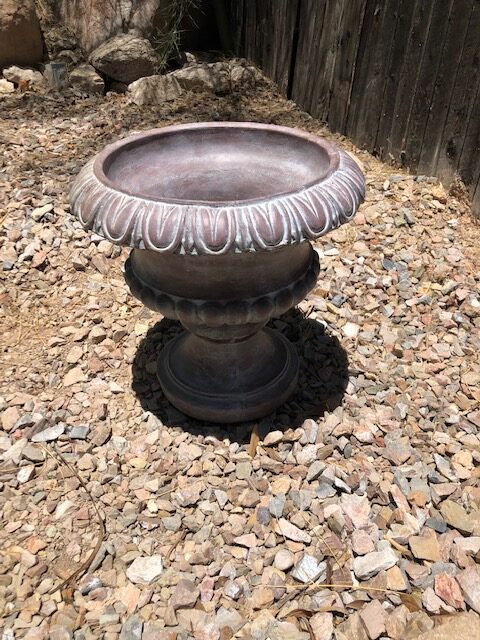 50% OFF!
Was: $59.95 Now:
$29.95

!!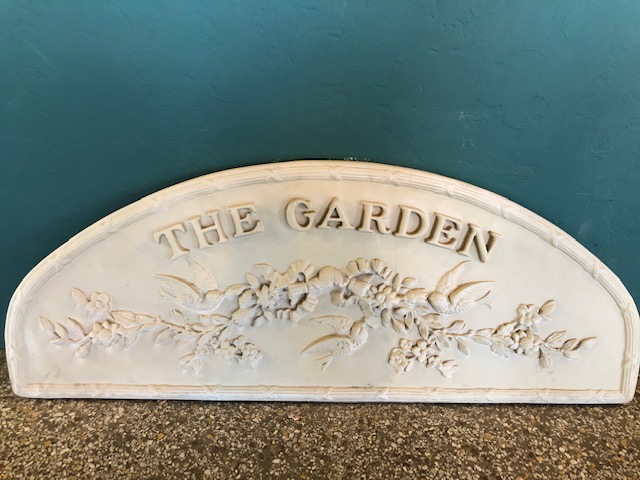 10% OFF!
Was: $199 Now:
$179

!

Last of it's kind! This beautiful plaque as part of the last shipment before the manufacturer discontinued its production. We are putting it on the bargain board because it deserves to be complimenting a home. It is 40″ wide and 16″ at its tallest point.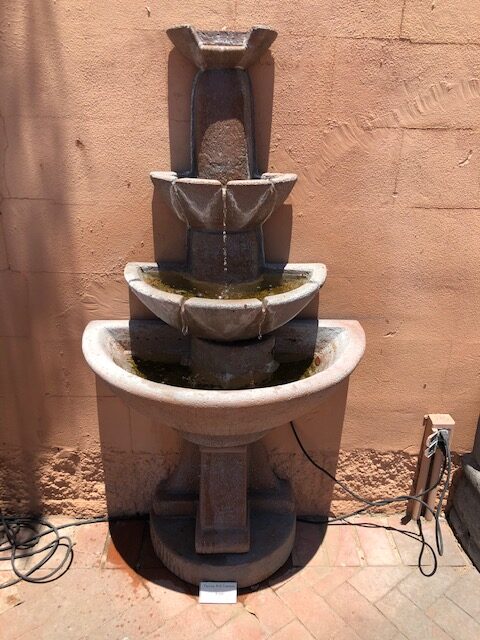 10% OFF!
Was: $649 Now:
$585

!

Ah the Rio Wall Fountain! One of our best displays, so loyal and beautiful, we've ran it everyday since we got it! With the high mineral content in our water it has built up a nice patina, it does not affect it's quality at all but for this only reason we are offering it at a discounted price. Standing at 60″x 31″Wide x 17″ Deep, it'll bring sound and beauty to any space. More Info click here!