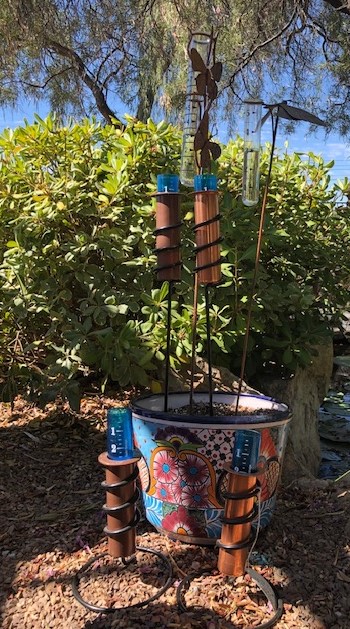 Click image for larger view
Dimensions:
Rain Gauges
We have Rain Gauges in a variety of designs,  from decorative stakes to the easy to read "World's Greatest". No matter your style they all serve the same purpose. The free standing ones are easy to place around the yard, just set and go. The stakes are convenient in that they slide right into a planter or raised bed for easy reading. Start measuring your rain fall today!  
The stakes are 24″ to 30″ tall.
The free standing are 9″ tall.
"Our modern gauges are the work of several countries and individuals that dedicated themselves to the research of rain fall in their areas.
The basic designs we have today are thanks to the efforts of Meteorologist George James Symons and his thousands of volunteers. Important discoveries were made beginning in 1860. Gauges should be out in the open not under trees, buildings or other obstacles. Oh! and that you don't get accurate readings in a cyclone. Talk about dedication from that person! LOL. Seriously though, that was important info to note and having so many contribute to the cause, made a huge impact on how we rely on the readings today!"
To read our blog click here! For more history  look here!