Ah the Monsoons, as Tucsonans we welcome the rains with open arms! But we are not alone… mosquitoes depend on these rains to reproduce. When the rains are late they will find any standing water and call it their nursery.
How to manage mosquitoes?
There are thankfully many ways to keep these pesky blood suckers at bay. For our fountain owners, we have animal friendly products that will make sure the birds can still enjoy your water feature*.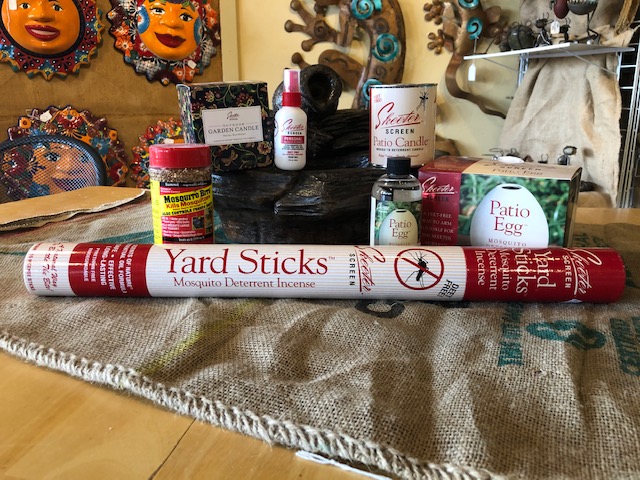 Mosquito Bits are great for any standing water areas. Sprinkle the appropriate amount and it works rather quickly, usually within 24 hours. It also says that it will control gnats! For more information about BTI (bacillus thuringiensis israelensis) Click here!
Patio Protection
Since Mosquitoes will happen, we have what you need to protect yourself and your family. One cool new item is the Yard Stick! This is burnt just like incense and can be placed on flower pots to create a barrier. Gives a lasting 4 hours of protection.
More traditional are the candles and the the awesome Patio Egg. The Skeeter Screen candles burn for for a whopping 80 hours! Both are self contained, one in a classic tin can and the other in decorated glass jar with lid.
The Patio Egg is excellent for active families and animals as it doesn't need a flame! It covers a 200 square foot area. If you smell it than it's working. Rarely needs topped off more than 2 weeks between, and has the potential to work for 4 months! Just fill, hang and relax.
Thank you for shopping local!
Author: Anchoret Clark
*Always follow manufacturer instructions