Here in southern AZ we enjoy 284 sun filled days a year, so a Solar powered fountain just makes sense! How do you know if it's right for you? What are the pros and cons of solar power? Get ready as we present the power of Solar!
Tell me the pros!
One of the most obvious benefits: no need to plug in the pump! What this means is no extension cords nor electricians to add an outlet close to the fountain location. You can choose a place anywhere you like and then use the long cord to put the panel in a very sunny spot, just set and enjoy! Now you're thinking, 'how could there be any downsides to solar?'. Let's talk about some realities that must be considered when using this wonderful alternative power.
Will the Solar Pump run at night?
This is a very frequently asked question. Many of us are only home in the evenings after work and that's when we want to relax or entertain guests. With just the panel the answer is no. The pump will not run well on cloudy days or if it is covered by shadows. When dusk comes it sleeps with the sun. But don't lose hope! Amazing people were on the job to invent a solution! May we present the Solar Battery backup? Yes!
This invention allows for the pump to run 3-4 hours longer than having just the panel itself. Being completely solar as well, it must fully charge before the pump will run. But if your goal is evening enjoyment than it makes perfect sense to have one of these.
Is Solar right for you?
With all things considered it may be just what you need. We are happy to offer 3 sizes that will give you plenty of fountain options. For choosing the right pump see our F.A.Q. page. The panel grows with the pump, as you can see in the picture below. If you're ready to "pull the plug" on your pump come on over and we'll get you off the grid!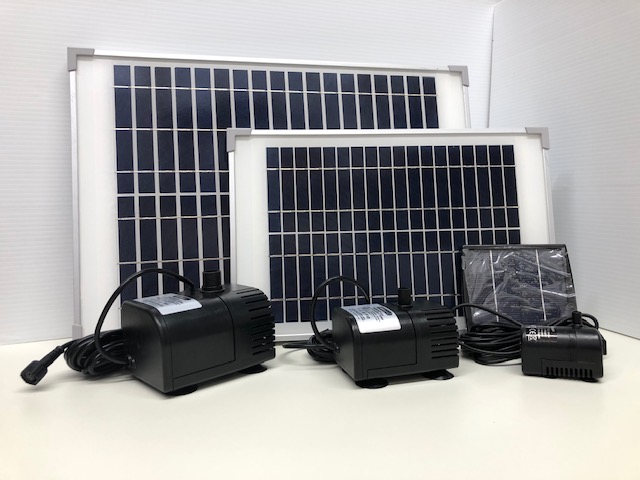 Author: Anchoret Clark