Bird watchers who wish to prevent birds from flying into their windows now have options right here at Zona Fountains. Millions of birds become injured and/or die each year from window collisions. We all look for ways to prevent that dreaded 'thud' — and we are now carrying WindowAlert® Window Decals to assist Southern Arizona's many bird lovers!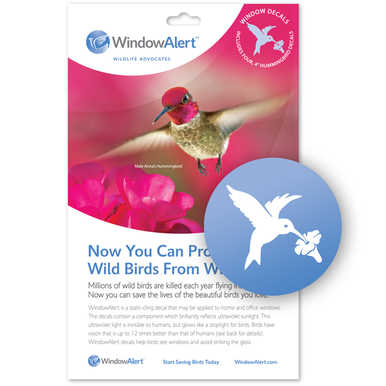 "There are also a host of methods that don't work, despite conventional wisdom or the claims of individuals or commercial interests. Don't waste time or money on old-fashioned measures such as windsocks or chimes, dangling pie pans, or strings of feathers. Recent research [1] has found that, despite occasional anecdotal success, such suggestions simply don't work reliably." (wingscapes.com)
Four effective ways to protect birds against window collisions:
1. Apply window decals specifically designed to prevent bird run-ins.
2. If you have the space, move bird-attracting items (e.g., feeders, birdbaths, fountains) away from the windows and house.
3. If space is limited, move bird-attracting items (e.g., feeders, birdbaths, fountains) closer to the windows and house. 

4. Apply a screen, net or awning to the windows. 
Take a look at our newest feeders, birdbaths, and fountains to attract more friendly fliers to your neighborhood!
Author: Alex Hinrichsen